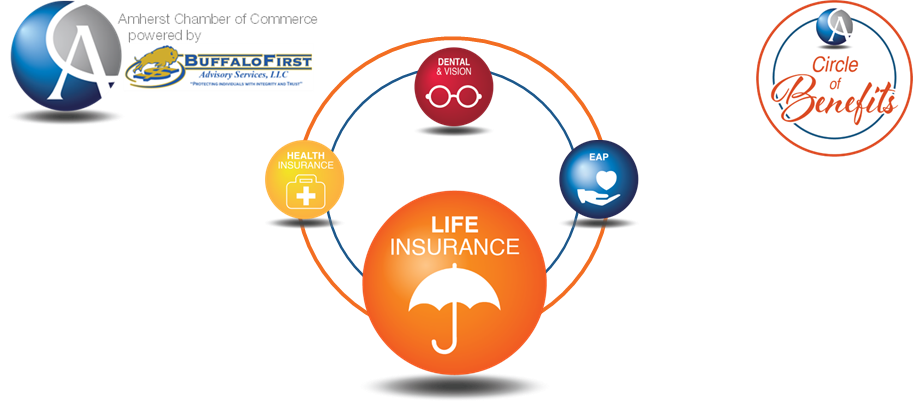 The Amherst Chamber of Commerce services members with life insurance through a partnership with Buffalo First Advisory Services.
The "Quote & Apply" Tool below, only takes two minutes and needs basic information:
Name
Date of Birth
Gender
Smoking info (past or present)
Height & Weight
Use the "slider" to select your desired insured amount
That's it! Your quote will appear on the screen!
Contact us at life@amherst.org or (716) 632-6905 for more information or questions.
LIFE INSURANCE GUIDELINES


The following information will be needed for your quote:
Name, Address & Phone #
Email Address
Date of Birth
SSN#
Driver's License #
Employer Name, Address, Phone # & Title
Your spouse/domestic partner information, as listed above
Marriage Date (if applicable)
Smoking acknowledgement
Existing Life Insurance info: Policy #, Year of Issue, Face Amount, Cash Value
Financial Info: Income, Assets, Liabilities
Policy payment mode choice (annual, semi-annual, quarterly, monthly)
Dependent/Beneficiaries

Name & relationship
Date of Birth
SSN#

The Amherst Chamber of Commerce and Buffalo First Advisory Services are not affiliated. Insurances quotes are provided through a relationship with, BackNine Insurance Brokerage. Final pricing is based on complete underwriting and determined through the insurance carriers. Those carriers do provide compensation when such policy is approved.
Please contact the Chamber at 716.632.6905 or email at life@amherst.org for more information.