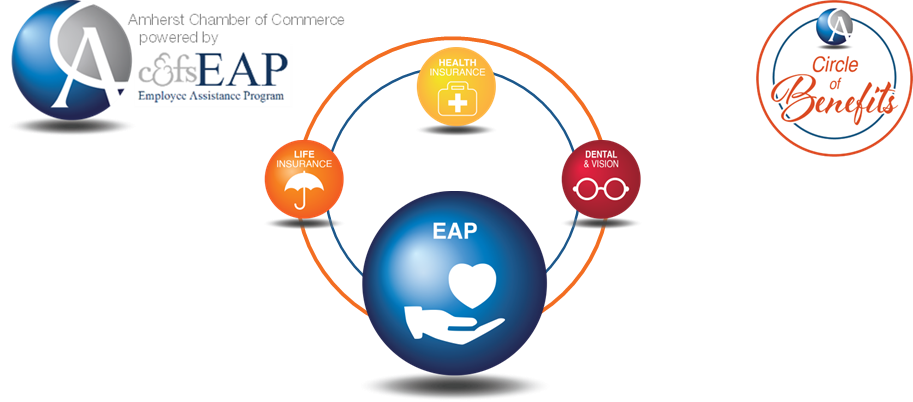 The Amherst Chamber of Commerce services members with employee assistance programs through a partnership with Child & Family Services.
LIFE DOESN'T STOP FOR WORK.
An Employee Assistance Program helps you, your employees & their families manage the life, work and the in-between.
Employee Services

Counseling & Coaching; in-person & telehealth options
Accessibility to Services; community driven program; all facilities are handicap accessible, near public transportation with available parking
TTY/TDD, "Language Lines" & other interpretive  services are available

24/7 Crisis Counseling Hotline
Workplace Services that includes training & educational communications, enrichment seminars & consultations
Work-Life Services

Nutrition services
Financial services
Smoking Cessation Programming
Childcare Consultation
Legal Consultation (via the Center for Resolution & Justice) to keep employees out of court
Mediation Services (discounted divorce mediation)
Child & Family Services is a local not-for-profit that assists our community for focus on the greater well being of our employees (and their families!)

Employees & their families get four (4) counseling sessions per problem
Each employee can receive three (3) hours of Consumer Credit Counseling
On-site response for critical response
Special, preferred pricing for an Employee Assistance Program is available for Amherst Chamber members!
Call for pricing & program details at 716.632.6905



EMPLOYEE SUPPORT:
Anyone who plays a role in HR knows that some problems don't have easy fixes. Mental health challenges, addiction, financial distress, loss and other traumas affect your employees every day. EAP provides direct intervention- Fast.
SUPERIOR SERVICE:
Our Master's level clinicians provide the highest quality of care, and our community partners are established and respected. Whether delivering direct care, seminars, training, consultation, or policy support- we're committed to excellence.
YOUR LOCAL RESOURCE:
We understand the importance of comfort and convenience. As your neighbors, we connect you to local and accessible supports right here in Western New York.