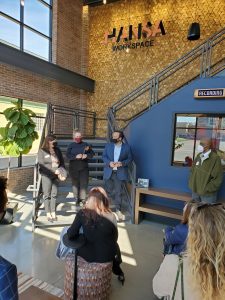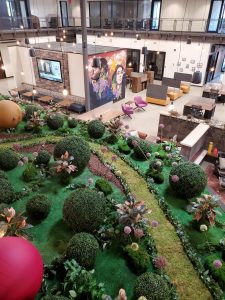 We have provided a hybrid of virtual and in-person events that prove the Chamber is back in full swing the past thirty days!
While we have been fully operational throughout the pandemic, our goal was always to bring our members back together with confidence in our ability to create a safe environment. We proved this past month that we could do that. We recognize that our members expect first-in-class events, and there was no shortage of those in April. Our West Herr Driven to Success Series featuring Douglas Jemal provided a fantastic opportunity, not only to take a tour of Seneca Tower, but afforded our membership a Q&A with Douglas and his executive team in the auditorium. You never know what can happen at a Chamber event, and we were delighted Mike Wisler, CIO of M&T, was able to join us after our Q&A and provided those in attendance a sneak peek of the M&T Tech Center before its grand opening.  It was an exceptional event that we were proud to be able to coordinate, and it is our community relationships that allow us the opportunity to engage with community leaders and difference-makers at a more personal level.
Another highlight of our month was our virtual forum with Assembly Majority Leader Crystal Peoples-Stokes, who updated the group on the recently passed marijuana legislation and budget. The Majority Leader has been a dear friend to the Chamber for years, and you may remember she installed our board of directors back in 2020. We were thrilled to welcome her back for this close-up educational opportunity to fully engage with her regarding the impact the budget and new marijuana laws would have on our residents and our business community.
The Buffalo Niagara Builders Association presented at our Economic Development and Public Policy Council to provide greater insight into the positive economic impact of new home development in our community. BNBA provided a detailed look at how our communities rank against others in New York and the rest of the country.  While we trail other states, we were happy to hear Amherst is a more accessible place to do business than other neighboring communities.
We were thrilled to host another successful Lunch Mob at Anchor Bar, Kick-off our inaugural "Mind Your Business Book-Club," take a tour of HANSA, and host multiple Pro-Nets as we continue to build for the future. As I mentioned last month, we are excited about the return of our Small Business Awards Luncheon & Showcase, taking place Thursday, July 22, at Samuel's Grande Manor. As we continue to see the restriction lifted, we are confident we will be able to highlight the business community this year in a way that shows great appreciation for all that that you have had to endure. As trying as it has been on all of us professionally and personally, there is plenty of cause for celebration! Nomination forms will be distributed in the next two weeks, but I encourage you now to start thinking about those businesses who did it best during the pandemic. If there is a business that pivoted during the pandemic, we want to hear their stories!
Since the fourth quarter of 2020, The Chamber has been working diligently to structure a council to create a more diverse and inclusive workforce within our membership. Our goal was not to create a council for the sake of creating a council; we wanted to ensure that we were going to make a real, meaningful, impactful change. Serving as a conduit for our community to tap into, and while we are still in our infancy stages, I am proud to report we are moving in the right direction: our Council Chair Annika Samuels, Director of Diversity and Inclusion at National Fuel. Annika previously served two years as Chair of the Emerging Business Leaders Board of Directors, and we are thrilled she has taken the helm of the D&I Council. Annika has done an excellent job of building a coalition of thought leaders and engaging community partners such as SUNY Erie, Buffalo Public Schools, and Buffalo Prep to provide our membership access to their networks to inform the community of the opportunities that exist for everyone. If you are interested in engaging with our Council, please reach out to me at any time.
The Chamber continues to assist our members throughout the pandemic and the reopening of the economy. Our team of dedicated professionals is eager and waiting to support you in all of your needs.  Do not hesitate to reach out to inquire about recently passed legislation, economic development, employee benefits, and more.  We will continue to engage with our elected officials and look for ways to provide more meaningful change to how we do business in our community.
Stay up to date by visiting our website amherst.org and please remember my door is always open.
Buffalo Niagara Builder's Association