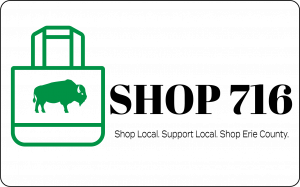 I trust everyone made the best of last year's unconventional holiday season. I hope you were able to connect with loved ones in some way, and that your families are safe and healthy. I am sure I speak for us all when I say that we could not be happier to put 2020 behind us and start our New Year off right!
However, I would be remiss if I did not mention one of the major highlights of 2020. The Shop 716 eGift Card launch showed just how powerful a community effort to "buy local" can be. In just seven weeks, over $1 million poured into our community's small businesses - from spas and salons to restaurants and retail stores. Companies purchased gift cards for their employees, and people found ways to support local businesses they may have never even stepped foot in before. We understand firsthand from so many different small business owners the positive impact this program had on our community.  We heard the stories of customers who tried new restaurants, and products at local retailers. The Chamber was proud to have played a key role in working with Erie County and Visit Buffalo Niagara on this important effort to support our small businesses in their time of need and look forward to expanding the program for many years to come.
As we pick up the pieces and begin to put 2020 behind us - there is some very encouraging news from the Small Business Administration for 2021. The Paycheck Protection Program (PPP) – both first and second loans – have been extended through March 31, 2021 or until funding runs out. First-time PPP borrowers at community development financial institutions could begin submitting applications the second week in January, with second loans and additional lenders soon to follow. We will keep our membership and the greater small business community abreast of developments with the program and are happy to connect businesses to resources to help them apply for funds.  The SBA feels confident that this program will be able to meet the demand but please do not wait, contact your business banker, or reach out to the Chamber and we will be able to assist in connecting you with an appropriate lender.
We are thrilled to announce the appointment of Mark Gaulin as the new Chairman of ACoC's Board of Directors. We thank Laura Zaepfel for her tremendous service as our immediate past Board Chair and look forward to working more closely with Mark during his tenure. Mark brings a wealth of business experience to the Chamber as President and CEO of PCI - a full-service technology company. Our newly elected board of directors will be installed at our upcoming Annual Meeting/State of the Town taking place virtually this year, Friday, February 5.  We look forward to welcoming our new directors and building upon the foundations of this tremendous organization.  More details coming soon.
Our 2021 EBL Leadership Program is underway. This group of motivated, promising future leaders has hit the ground running with their first class focused on time management in a COVID world.  If you are still interested in recognizing an individual in your organization who may be a fit for the program, it is not too late to register.
While the Chamber continues to deliver its programming virtually, we are hopeful for the opportunity to meet in person once again. Until that time, we will be sure to deliver plenty of opportunities to network, educate and better prepare you and your business for what lies ahead.  Please be sure to keep an eye on our events calendar as we continue to update weekly. I look forward to a positive and brighter tomorrow, and please remember my door is always open.