I hope everyone had a safe, healthy and happy Thanksgiving holiday. Given the difficulties we have all experienced this year – it was more challenging than usual to conjure up our usual list of things we are thankful for. For me, I am deeply thankful that my family is healthy this Thanksgiving, though I know, sadly, this is not the case for so many. We at the Chamber are thankful for our small business members who are bravely trudging through these difficult times, and creatively finding ways to survive. We are thankful they continue to look to us for advice, advocacy and networking opportunities that are otherwise impossible to find in isolation.
As we move forward into what is typically the busiest time of the year for small businesses, we understand the uncertainty of the future designation of a potential "red zone" in Erie County and it is a very difficult pill to swallow. We have all worked so hard to adapt to this new normal, and understandably, this news will be unwelcomed as we round out the year. It is my hope that any additional pause orders are short and effective in reducing the spread of this deadly disease, so that we can get back to business – and this time - for good.
The Chamber has been working closely on a number of COVID relief initiatives, chiefly of which is the Shop 716 program. Through this initiative, residents can purchase gift cards in increments of $25 dollars and Erie County will match each purchase dollar for dollar. Over 580 businesses have signed up to participate in this program, which we expect will inject nearly $1 million of spending in our local community over the next four weeks. Purchase a gift card at Amherst.org/shop716 and shop local for your gifts this holiday season. Our small business community needs our support now more than ever. For a list of participating merchants, please click the button below.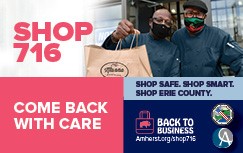 In addition to our work on the Shop 716 initiative, we were thrilled to see the Erie County Back to Business Grant Program released a record $19 million in small business grants throughout our community - with nearly 1,400 businesses receiving funds. We partnered closely with Erie County and 43North on this critical program – and while it's been a tremendous undertaking, we also understand the need was even greater than the funds could support. That is why we continue to advocate for another round of CARES Act funding for our small businesses. The pandemic continues to affect our businesses – and so we must continue to support them through these final challenging months.
The Amherst Chamber continues our virtual programming this month with a program schedule for 2PM THIS AFTERNOON with Chamber member Christine Vargas from Vargas and Associates. Christine will speak on how to right size your office safely, best practices around workplace safety and the importance of not letting down your guard with critical policies and procedures. Please be sure to register here.
Take advantage of an opportunity to connect with your fellow chamber members at our open ProNet, this Wednesday at 9am. Follow this link to register: Pro-Net Registration. Lastly, this week, we hope you will join us on December 4th for our second installment of Mental Wellness programming led by Horizon Health Services, Independent Health, and Financial Partners of Upstate New York. The topics of discussion include recognizing and appropriately addressing the effects of stress on your employees and coworkers. During these incredibly stressful times – this topic is not only informative, but extremely timely. Please be sure to register. Our third installment will take place Tuesday, December 10 at 9am.
Don't forget that our open enrollment for health insurance ends soon. The Amherst Chamber is proud to be the only chamber locally with in-house brokers. Please let our team, led by Penny LaPlaca, help you select the health insurance plan that works best for you and your employees.
The Chamber looks forward to helping our member companies assist in the professional growth of their up and coming team members. Our Emerging Business Leaders' program will launch early January 2021 for a nine-session course focusing on creating a more well-rounded young professional. Each participant will complete a "WorkPlace Big 5" assessment, learn creative problem solving, hear from News 4-WIVB anchor Erica Brecher on how to confidently handle public speaking on camera/zoom, as well as, several other critical skills. If you have someone within your organization that exhibits leadership qualities and is poised for growth, please consider having them enroll! This leadership program is virtual but will provide plenty of opportunities to help assist young professionals in building not only their professional skills but their professional networks. To learn more please click here.
Once again, please know how grateful we are to serve our members during these challenging times. As the holiday season draws closer and the year comes to an end, please remember we are eager and willing to help your business in any way that we can. The Chamber will continue to fight to improve the business climate in New York State and Erie County so that all our small businesses can do what they do best – create jobs, opportunities and top-notch services for our community.
On behalf of our team at the Chamber we wish everyone a safe and healthy holiday season and look forward to a brighter 2021. Please remember our door is always open.