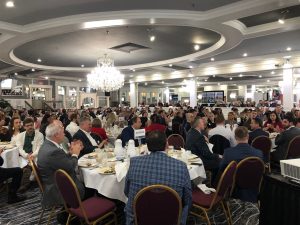 As we march toward spring, the Chamber is focusing on our next big event: Small Business Awards Luncheon and Showcase. This is our annual tribute to the small business community. It will be held this year on May 1, just a few days before the country marks National Small Business Week. Our event is a great opportunity for business owners to increase their visibility and strengthen their brand. We start off the day with a showcase featuring 50+ vendors. Then, we welcome a crowd of 400+ to our Awards Luncheon where we will highlight small businesses that are having a big impact on our community. It's an inspiring afternoon of honoring entrepreneurship and attracts businesspeople from both large and small companies. Book your showcase table now, while there is a $75 savings. Interested in showcasing your business in our program? Full- and half-page ads are available. Know a small business deserving of an award? Nominate them! For more information on any of these ways to join our small business celebration, click here.
Small businesses remain the driving force of growth in our area and the Chamber is proud to advocate for them during a trip to Albany on March 10th. We will be collaborating with the NFIB (National Federation of Independent Business) on Small Business Day to address issues such as tax relief, mandatory sick leave and higher healthcare taxes. Taxes are among the top concerns for small business owners. New York lawmakers are currently considering a Small Business Tax Cuts package in the budget and we want to make sure your voice is heard.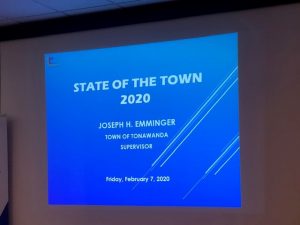 The Chamber is also committed to collaborating with our neighboring communities on a stronger business climate. We joined Town of Tonawanda Supervisor Joe Emminger for his State of the Town, as well as Buffalo Mayor Byron Brown for his State of the City, which is featured in our Tuesday Talk segment this month. From the sale and cleanup of the former Huntley power plant in Tonawanda to the future of Buffalo's Main Place Mall, it's important that we closely follow the economic development efforts across the region and how we can help further the mission.
One of the many local organizations of great value to entrepreneurs is UB's Center for Entrepreneurial Leadership. CEL is part of our esteemed University's School of Management. Its mentor-driven, 10-month program is designed to educate business owners on overcoming challenges, creating new opportunities and developing meaningful relationships within the business community. It is geared toward businesses that are beyond the startup phase, but its methods for business growth are vital to everyone who is going out on their own. That's why we are thrilled that Erin McGee from CEL is presenting at our Open ProNet next week. She will talk about best business practices and strategies on March 10th. Every member who is running a business can benefit from this free event. Register here.
Nothing says spring more than a St. Patrick's Day celebration! Our Lunch Mob at The Irishman Pub and Eatery is back by popular demand. We will be celebrating all things Irish on the menu, including corned beef and cabbage, shepherd's pie, even a frothy pint when we gather on Wednesday, March 11 at the Main Street establishment. Register here.
We will round out the month with a new twist on our Business After Hours. Windsong Radiology will be hosting tours at its new
outpatient clinic, Interventional and Vascular Services on March 24th. It's where doctors are performing minimally invasive procedures in a variety of medical fields: gynecology, vascular and even oncology. It's revolutionizing treatment and it could one day help you. Join us for this informative evening. Drinks and light appetizers will be served. Register here.
Soon, we'll be feeling spring in the air, and we hope you will be invigorated by our by program lineup. Don't sit on the sidelines. Get involved, and remember my door is always open.