Peter Petrella, Aleron
As Board Chair, Pete Petrella, will build upon the strategic plan of the Chamber while ensuring that the business community is well represented in the areas that continue the growth of the Buffalo Niagara region.
Amherst is the largest suburb in upstate New York, and most residents of WNY work, reside, or visit for beloved fare and festivals, medical needs or shopping. Buffalo, The City of Good Neighbors, encompasses the nature of the larger ecosystem of Western New York.  The Amherst Chamber of Commerce, it's Board of Directors, the staff, and the Members work together to uplift the entire professional network.
Mark Gaulin
Board Chair
PCI
Anne Constantino
First Chair
Telos Consulting
A.J. Baynes
President/CEO
Amherst Chamber of Commerce
Elena Mendel
Treasurer
National Fuel
Pete Petrella
Secretary
Aleron/Viaduct
Laura Dolan
Bank of America
David Flynn
Legal Counsel
Phillips Lytle LLP
Earl V. Wells III
e3communications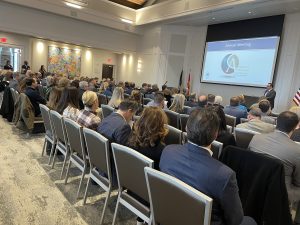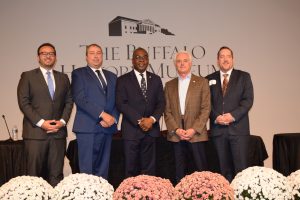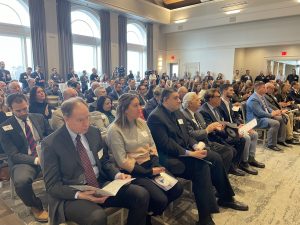 A.J. Wright, Highmark of Western New York
A.J.* Baynes, Amherst Chamber of Commerce
Andy Davis, Erie County Medical Center
Anne Constantino, Telos Consulting Group
Brendan Little, Lippes Mathias LLP
Chrystie Barker, Ellicott Development
David Flynn*, Phillips Lytle LLP
David Mingoia, Amherst IDA
Dr. Navyugjit Virk, Great Lakes Anesthesiology
Earl V Wells III, e3 communications, Inc.
Elena Mendel, National Fuel Gas Company
Elizabeth Carey, AAA Western & Central NY
Frank LoTempio III, LoTempio PC Law Group
Frank M. Comisso, West Herr Automotive
Greg Wichlacz, NOCO LLC
Holly Hubert, GlobalSecurityIQ
Jeff Panza, LeCHASE Construction
Jenna Kavanaugh, National Grid
Jody Briandi, Hurwitz Fine P.C.
John Gavigan, Credivault
Judy Baumgartner, Kaleida Health
Ken Pawlak, Evans Bank
Kyle Ciminelli, Ciminelli Real Estate
Laura Dolan, Bank of America
Laura Zaepfel, Uniland Development
Luis Rodriguez, Rodriguez Construction
Luke Woeppel, M&T Bank
Mark Gaulin, PCI
Michael A. Anderson, BankOnBuffalo
Michael Pietkiewicz, Wendel Companies
Nick Darling*, Spectrum Reach
Paul Coleman, KeyBank
Paul Valley, Univera Healthcare
Pete Petrella, Aleron
Rachael Brown, ESC
Rich Argentieri, Independent Health
Sal Sciandra, Frey Electric Construction
Steve Bertini, Wegmans Food Markets
Tom Garigen, Cannon Design
Walt Ludwig, Catholic Health
William P. Johnson, Nesper, Ferber, DiGiacomo, Johnson & Grimm